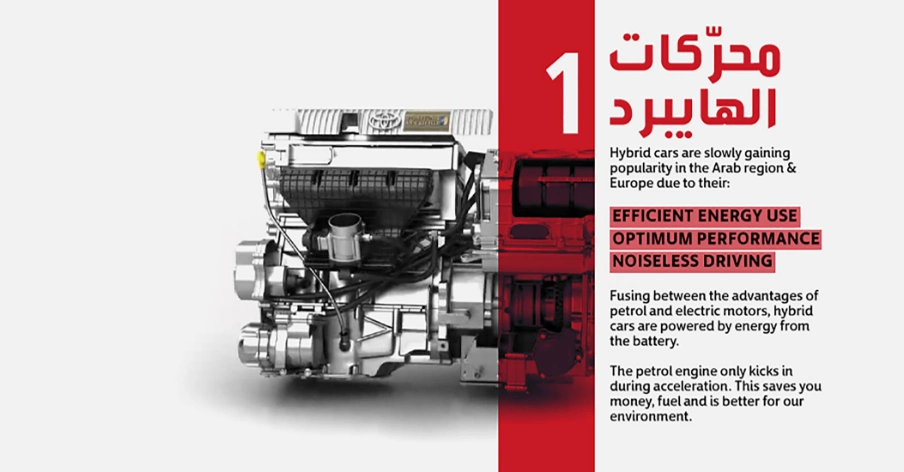 Let's take a look at the innovative technologies that will drive our car engines in the future, as petrol and diesel engines are now making way for more refined, high performance and environmentally friendly engines.
Hybrid engines
Hybrid cars are slowly gaining popularity in the Arab region and Europe due to their efficient energy use, optimum performance and noiseless driving. Fusing between the advantages of petrol and electric motors, hybrid cars are powered by energy from the battery. The petrol engine only kicks in during acceleration. This saves you money, fuel and is better for our environment.
Electric engines
Electric engines rely solely on electricity from a battery to keep the car moving. All you need to do is to recharge your car battery and you are ready to hit the road. Despite popular belief that purchasing an electric car is a hefty investment, the cost of running and charging the car has diminished a great deal over the past five years and is expected to decrease even further, making it more widely available to customers.
Hydrogen engines
The first personal hydrogen car was sold for $70,000, but its price is expected to decrease by more than 90% in the next decade.
Hydrogen engines rely on fuel cells that turn hydrogen into energy, which in turn moves the car. The only thing that the car emits is residue water vapor. You can drive a hydrogen car for up to 650 km when its tank is fully loaded with hydrogen. Did we mention that it only takes three minutes to fuel?
At the end of the day, car technology is constantly evolving to meet your every need, so you can enjoy a seamless driving experience every single time. Test your new engine now.